Bandar Abbas
Seaport and capital of Hormozgan Province, Bandar Abbas with more than 200,000 inhabitants, is located on the south of Iran at an elevation of 15 meters above sea level and over looks the strategic Strait of Hormoz.
It is a port in the middle of strait linking the Persian Gulf to the sea of Oman.
With a distance of 1,501 km from Tehran, it can reach by air, a first class-road, and rail.
Compared to other ports along the Persian Gulf and the Sea of Oman. Modern Bandar Abbas is the largest and the most equipped port that occupies a strategic position of the greatest importance.
In summer it gets sizzling hot and very humid here, but it's pleasant enough to visit in winter
In the 16th century, the Portuguese took possession of the isle of Hormoz in order to use the latter as an outpost for the protection of their Indian Empire.
They were expelled in 1622 after a tough naval battle, by Shah Abbas the Great who founded the town that continues to bear his name ever since (it was called Gambro or Gambrun until then, which was the name of a type of abundantly found small crustacean around the town).
Following the downfall of Safavid and the Afghan invasion of Iran, Nadir Shah became the king of Iran. He expelled the Afghans from Iran and, among other things, constructed a shipbuilding industry and the corresponding port facilities at Bushehr, as the result of which the fame of Bandar Abbas eclipsed and the town began to fall into ruin.
Revival of Bandar Abbas took place only recently. Its all-round development has been the result of social, commercial, military, political, and tourism imperatives.
Close to the Arab world and, through the Sea of Oman, open to the oceans of Asia, Bandar Abbas is serving Iran as its most natural maritime outlet at present.
With the exception of the rich regional museums, the most attractive natural points are to be found in the surroundings: mineral water in Genau, the new Kuh-e Genau Wildlife Park, and the great agricultural town of Minab.
Motor boats are available for round trips to the islands.
An interesting local tradition which will be seen in Bandar Abbas and many other coastal of Hormozgan Province, are the borga`s or the "masks" worn by some women, which are fairly hideous, semi-rigid contraptions surrounding eyes and cheek-bones and covering the nose.
The Iranians believe that no religious taboo explains the wearing of these masks: rather it is a fashion which originates from the period of Portuguese Occupation when ladies wished to walk about unrecognized or simply to protect their face from the scorching sun.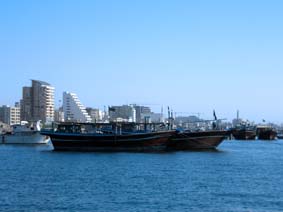 Bandar Abbas, the waterfront view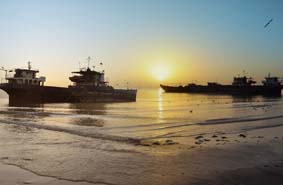 Sunset in Persian Gulf

Panorama of Fin's Castle, Bandar-e-Abbas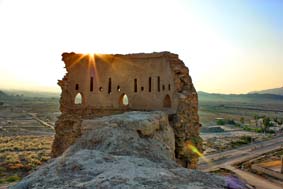 The remains of the historic Castle Finn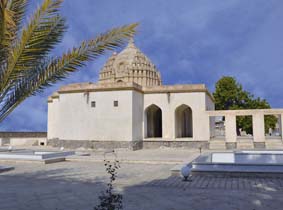 Hindu Temple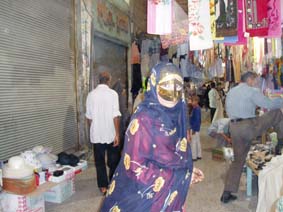 Bandarabbas traditional market
Excursions around Bandar Abbas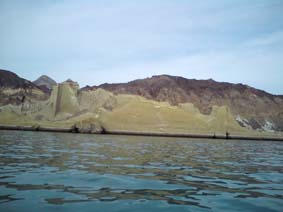 Hormoz Island - Lateral Road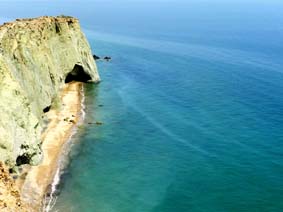 Hormoz Island-Bandarabbas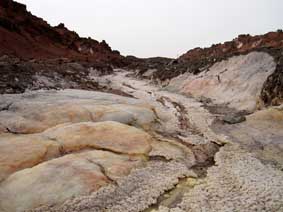 Hormoz Island - Crystalized river- the Energy valley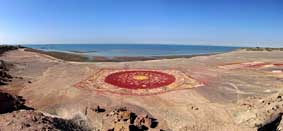 Hormoz Island - Sandy Carpet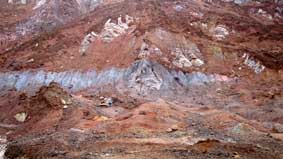 Hormoz Island - Valley of Silence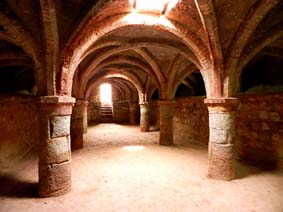 Hormoz Island - Portugueses Fortress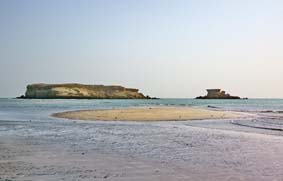 Naz islands on Southern Beach of Qeshm
Qeshm - Hara Jungles - Heron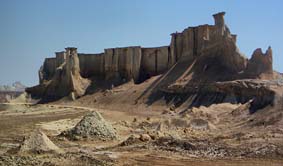 Qeshm Island - Beautifull Mounts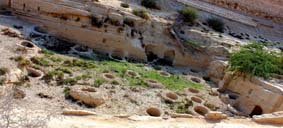 Laft Ancient Wells (Achaemenid era)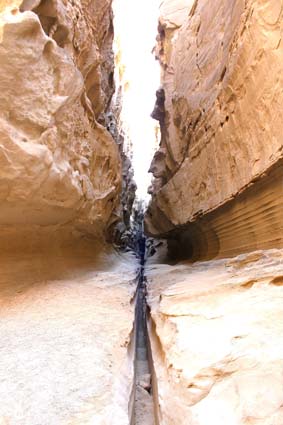 Chah kuh Valley - Qeshm Island